Performance Practice
of Electroacoustic Music
Klaus Huber
… Plainte …
Introduction
The piece is one of several recompositions of …Plainte… (1990) composed by Huber in memory of Luigi Nono.  
Many of Huber's works form cycles. In these "poly-works", as Claus-Steffen Mahnkopf calls them, several works are polyphonically combined to form a new composition. Mahnkopf classifies Huber's poly-works as follows (s. Mahnkopf (2009), p. 154):
Individual pieces are combined to form a new piece by playing them simultaneously (overlapping) or separately (successively). An example of this is the work Protuberanzen
Some elements are added to a work or omitted from it, as in Beati Pauperes.
Pieces that were recomposed according to the principle of later compilation, as in …Plainte...
Huber characterizes this compositional technique as "an image of the Creation and the principle of all live" (Knipper (2009), p. 67, s. pp. 61-68 for a discussion of Huber's recomposition technique within his late works).
The pieces that constitute the poly work …Plainte… were composed between 1990 and 1993 (some of the works mentioned by Knipper (2014) were composed later). First chronologically was …Plainte… for seven-stringed viola d'amore, which was composed in 1990 (for a thorough discussion, s. Knipper (2014, pp. 221) and was integrated into Die Umgepflügte Zeit, for viola d`amore, speaker, choral voices, two mixed ensembles and two conductors (1990). A reduced version of Die Umgepflügte Zeit was Plainte – Die umgepflügte Zeit I for mezzo-soprano, tenor, viola d`amore (tuned in third tones) and 13 instruments. A variation of this piece is Plainte – Die umgepflügte Zeit II for mezzo-soprano, high tenor, viola d`amore (tuned in third tones), guitar, percussion and 13 instruments.
Plainte – lieber spaltet mein Herz I for Viola d`amore (also viola), guitar and percussion dates from 1992. It is a reduction of Plainte – Die Umgepflügte Zeit I and II. This was adapted by Huber in 1992 in a version for alto flute, guitar and percussion with the title Plainte – lieber spaltet mein Herz II. It is this work the 1993 version for alto flute solo is based on (According to Knipper (2014), no less than 15 works of Huber are based on …Plainte…, the piece in fact forming the center of Huber's late work (Knipper (2014), p. 221).
Huber had composed …Plainte… upon learning of Luigi Nono's death. In a conversation with Mahnkopf he said that "a lament was not really what I had in mind. I wanted to let something follow him [Nono] […] The question was how I could make the viola d'amore exude itself, give itself over, create a boundless space, suggesting, but not illustrating it ("Trotz des Titels …Plainte… war mir die Klage nicht wirklich naheliegend. Ich wollte ihm etwas nachschicken. […] Die Frage war, wie ich es schaffen könnte, dass die Viola d'amore sich verströmt, sich hingibt, einen grenzenlosen Raum schafft, diesen suggeriert, aber nicht darstellt" (Mahnkopf (2009), p. 72). As Knipper points out Huber's wording recalls Nono's late spatial compositions (Knipper (2014), p. 221).
The version for alto flute solo, using the complete alto flute part from the trio Plainte – Lieber spaltet mein Herz II dates from 1993. The adaption was made for flutist Suzanne Huber, to whom it is dedicated. The work also commemorates the Russian poet Ossip Mandelstam.
The piece consists of small fragments of two to five tones, variations on which are formed. These fragments are combined to build different phrases. They are marked a, b, c and d and are separated from each other by fermatas or pauses.
Fragments a and b are notated with specific time signatures, while fragments c and d are notated without any time signatures. There are three different tempi throughout the piece that are connected to specific phrases:
Fragments a and b: estremamente tranquillo e pianissimo, quasi sempre senza vibrato
Fragment c: poco piu mosso (tempo solo) senza misura
Fragment d: molto lento
Huber composed the piece employing free and partly aleatoric techniques: "In the [musical] flow and rhythm I don't use any constructs or calculated gestures and formulas, but short ideas that are sometimes extended by short fermatas, like a breath" ("Im Duktus und in der Rhythmik verwende ich keine Konstrukte, keine kalkulierten Gesten und Formeln, sondern kurze Gedanken, die teilweise durch kleine Fermaten erweitert sind, wie ein Atem") (Klaus Huber (2009), p.72). Clear musical references to Nono are the use of extreme lower dynamics, fermatas, microtonality and –in the case of the version for flute and virtual resonators– spatiality to create a globally static but locally always changing resonant sound space.
Version for alto flute with virtual resonators (2015)
Beginning in 2014 and following up on a suggestion by musicologist Till Knipper, Kilian Schwoon realized a version for alto flute and virtual resonators, the basic idea being to add seven virtual resonance "strings" in analogy to the viola d'amore version. The sound projection was to be realized in surround sound. Schwoon worked with a synthetic model of the resonance strings with 16 resonant filters for each string. The [seven virtual] strings were to move independently and irregularly in space, thus acting as sort of "risonanze erranti".
Tests with flutist Jean-Luc Menet followed in September 2014. It was found that long resonances were preferable, allowing the flutist for more interaction. Subsequent studio work with Klaus Huber and Younghi Pagh-Paan took place on September 28, 2014. Huber approved the version and stated his preference for long and "bright" resonances while pointing out that different versions were possible. This version for alto flute and virtual resonators was premiered on March 10, 2015 in Copenhagen with Jean-Luc Menet playing the flute part. According to Menet, a version for alto flute and viola d'amore prepared by him as a surprise for and played to Huber for his 80th birthday at the Galerie Katrin Rabus in Bremen could have inspired Till Knipper to the version (Statement by J.L. Menet at the PPEAM workshop, ZHdK, 23.6.2016).
Sources
Performance Material (Ricordi)
The score for the alto flute solo version is available from Ricordi as purchase material (SY 3445). It includes an introduction by the composer relating the context of the original composition and discussing aspects of the recomposition for alto flute solo, as well as remarks on realizing the flute part. A chart exemplifying the fingering notation, prepared by Suzanne Huber, is also included, as well as Ossip Mandelstam's text in Russian and German.
The version with virtual resonators is treated by Ricordi as a variant version of SY 3445 authorized by the composer.
Archival material
Private archive Suzanne Huber
-Fingerings and performance instructions for the flutist
Private archive Kilian Schwoon
-MAX performance patch
Performance
Authorial / Editorial instruction
Huber gives following musical character definitions: "estremamente tranquillo e pianissimo, quasi sempre senza vibrato… sich in einen grenzenlosen Raum hinein verströmend", and for the third part "poco piu mosso, senza misura" for the second, "molto lento" for the third.
Performance report
The piece was performed on 23. June 2016 in the large hall of the ZHdK within the 4th PPEAM-workshop by Rafal Zolkos, flute, Kilian Schwoon, live-electronics, Florian Bogner, sound engineering and Carlos Hidalgo, musical assistance.
The intention of the version with virtual resonators was described by Kilian Schwoon as follows: "to concretize the metaphor "sich in einen grenzenlosen Raum verströmend" through the electronics in a most subtle way not meant as an electronic accompaniment.
Tuning of the Flute:
The tuning can be chosen by the performer, the Max patch (s. below) can be adjusted accordingly.
Amplification
The flute was slightly amplified using a cardioid condenser microphone. Two center loudspeakers, one above the performer, the second on a lower stand on the floor were used for amplification. No reverb was added. For the live processing of the flute a head set with a cardioid dynamic microphone was used in order to diminish the risk of feedback.
Playing system, patch-functionalities
The patch consists of 7 resonators with 16 partials each. It has 1 channel input from the microphone to excite the resonators and 6-channels output. The routing of each resonator to the loudspeakers changes dynamically during performance controlled by an algorithm.
LS Setup
The resonances were played through 6 loudspeakers regularly distributed around the audience (s. diagram below).
Sound projection
In order to achieve a higher spatial density, a sum of the six outputs was slightly reverberated and sent to all six loudspeakers and to the center loudspeakers used for amplification as well. A midi-fader box was used to control the dynamic level of each resonator in order to compensate the dynamic differences.
Diagram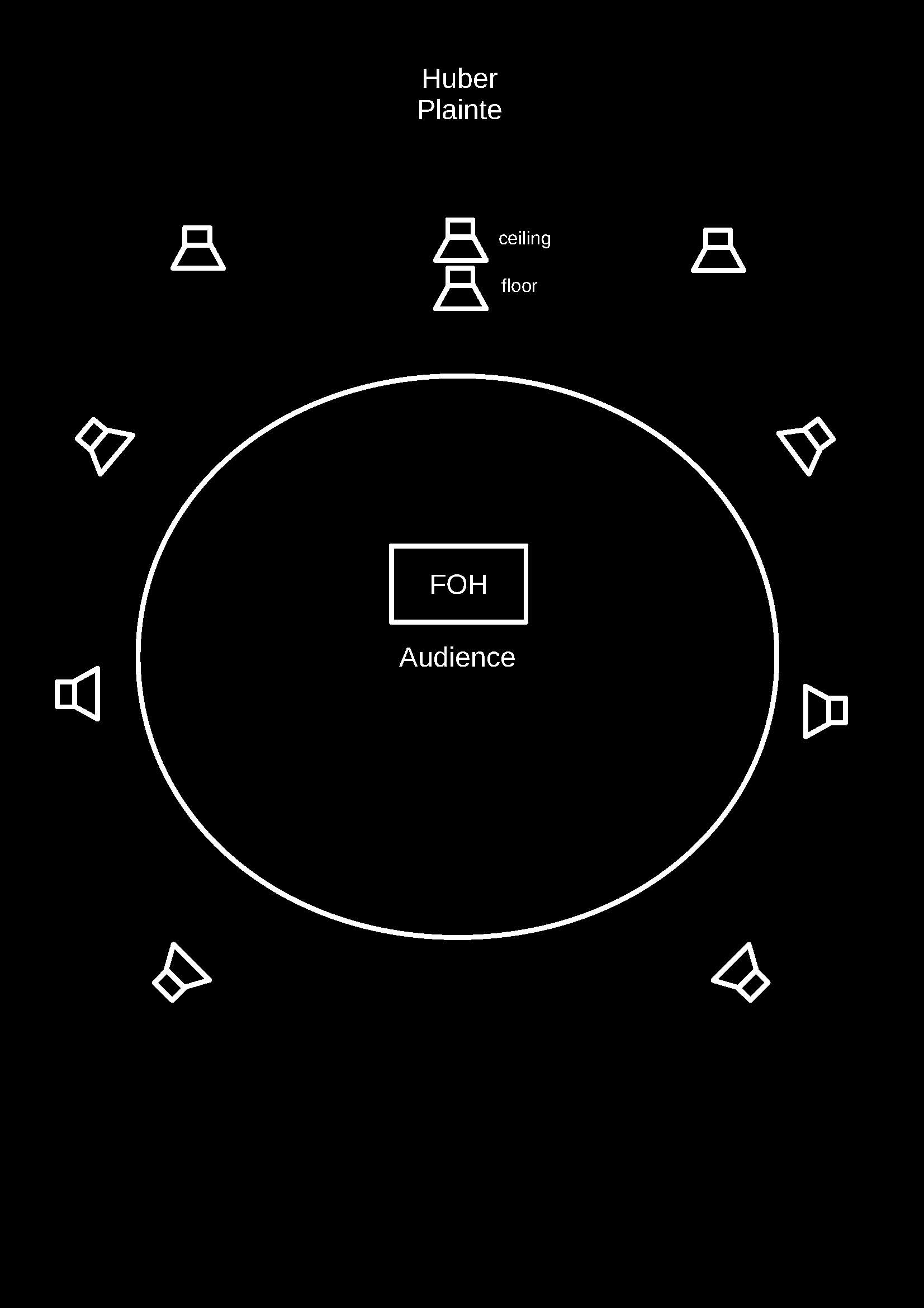 Selected Bibliography
Huber, Klaus, Umgepflügte Zeit, Schriften und Gespräche, herausgegeben von Max Nyffeler. Musik Texte Verlag, Köln, (1999), p.435
Knipper, Till, Mikrotonale Intonation: Konzeption und Aufführung von Klaus Hubers "…Plainte…" für Viola d'amore, in Mikrotonalität – Praxis und Utopie (ed.  Cordula Pätzold), Mainz, 2014, p. 219-246.
Knipper, Till, Klage um Klage. "Rekomposition" in Klaus Hubers Spätwerk, in MusikTexte 123 (2009), p. 61-68.
Mahnkopf, Claus-Steffen, Klaus Huber Von Zeit zu Zeit, Das Gesamtschaffen, Gespräche mit Claus-Steffen Mahnkopf, Wolke Verlag, Hofheim, (2009), pp.70-74.
CD releases (selection)
| | |
| --- | --- |
| Suzanne Huber (recorded 1999) | Streiffzug SC1402 (Klaus Huber, vol. 1) |
Download
Schematic Overview
Piece information
| | |
| --- | --- |
| Composer | Klaus Huber |
| Title | …Plainte… |
| Year | 1993 |
| Studio | |
| Type | Solo flute [and virtual resonators] |
| Duration | Approx. 12'20'' |
| Publisher | Ricordi |
Rent material
| | |
| --- | --- |
| Renter | Ricordi (purchase material) |
| Format | Sheet music |
Archival material
| | |
| --- | --- |
| Private archive Suzanne Huber | Fingerings and performance instructions for the flutist |
| Private archive Kilian Schwoon | MAX performance patch |
Commercial releases (selection)
Suzanne Huber (recorded 1999), Streiffzug SC1402 (Klaus Huber, vol. 1)