Performance Practice
of Electroacoustic Music
Edgard Varèse
Poème électronique
Introduction
The electronic piece known as Le poème électronique was originally conceived as part of a multimedia work commissioned by the Philips company for the Brussels World's Fair of 1958, to be realized by Le Corbusier. It is considered the first multimedia project integrating electroacoustic music in a multimedia setting (Lombardo et al. (2009), p. 24). After many difficulties it was finally presented to the public on May 20, 1958, more than a month after the World's Fair had opened (Tazelaar (2013), p. 166).
The building where the work was performed – the Philips Pavilion, accommodating an audience of 500 – was designed by Iannis Xenakis who was at the time working for Le Corbusier (Lombardo et al. (2009), p. 25). Le Corbusier had the realization of the main musical part assigned to Edgard Varèse, while he himself developed the visual conception involving film sequences and light effects including color light projections and three-dimensional forms lit up by UV light. The visual sequences of the Poème are titled as follows (cf. Lombardo et al., p. 28):
1 "Genesis"
2 "Matter and Spirit"
3 "From Darkness to Dawn"
4 "Manmade Gods"
5 "How Time Molds Civilization"
6 "Harmony"
7 "To All Mankind"
The music was played from a three-track tape and routed to several hundred speakers according to pre-defined movement patterns. As audiences were moved in and out in between performances, Iannis Xenakis' Interlude Sonore was played in the background (Lombardo (2009), p. 25).
Varèse realized the electronic music for the Poème at a Philips garage in Eindhoven, where a temporary studio had been set up to test technology and produce the music for the Philips Pavilion (Tazelaar (2013), p. 120–125). The sound materials of the music include voices, instruments, recorded noises and synthetic sounds. Le Corbusier and Varèse had agreed from the beginning to have no common time structure for the music and the visuals, apart from a point of contact in the middle (silence and white light).
The Philips pavilion existed only for the duration of the exhibition. With its dismantling, the intended context of the piece was essentially lost and while the original film materials are preserved in the EYE Film museum in the Netherlands, the electroacoustic piece was for a long time all that was perceived of the work, having been published on vinyl as a stereo mix of the three-channel audio authorized by Varèse (Lombardo et al. (2009), p. 25).
In subsequent years, however, the pioneering original conception of the Poème within a multi-media setup has inspired several projects aimed at recreating the original experience at the Philips Pavilion within different setups, among which the realization by the Asko Ensemble and Bart Lootsma in February 1984, setups involving virtual reality technologies, most notably the Virtual Electronic Poem (VEP) project building on extensive philological research (s.  Lombardo et al. 2005 and Lombardo et al, 2009) and a realization within the IEM CUBE concert space at IEM, Graz (s. Zouhar (2005)). Kees Tazelaar's full-dome version presented at the Holland Festival in 2009 was the first reconstruction that made use of digital copies of the original film materials. it was also the first version that tried to visualize the color projections on the basis of Le Corbusier's original intentions, rather than on an imitation of what was shown inside the Philips Pavilion.
Sources
Performance material
The performance tape is rented from Ricordi. It consists of a stereo audio file on CD (44.1 Hz/16 Bit, duration: 7'35:43).
The audio exhibits a great deal of distortion (especially in the right channel), as well as clipping. It is therefore actually unsuitable for performances.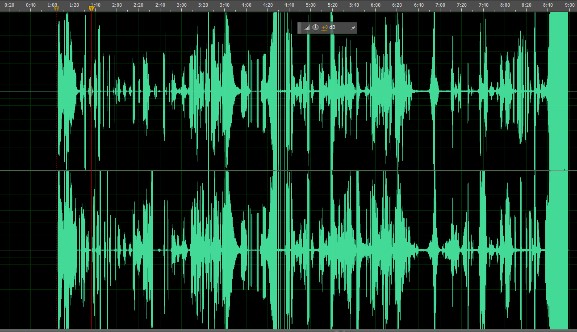 Poème électronique, performance material
Archival material [1]
Institute of Sonology, Den Haag
-Pre-master tapes: Three mono, one stereo, master: 35mm perfo tape
Le Corbusier Foundation, Paris
-Drawings and models, photos
Philips Company Archives
-Photos, images, various documents
Dutch Film museum EYE, Amsterdam
-Original film material, film documenting the construction work of the Philips Ppavilion
Getty Research Institute, Los Angeles
-Sketches, plans, models, scenario for visual effects etc.
[1] For items 2-5, s. Lombardo et al. (2009), p. 25.
Performance
The work was performed at ZHdK on January 29, 2015 in a spatialized (5.0) film version realized by Kees Tazelaar. In realizing this version, Tazelaar took into account Le Corbusier's timing chart («minutage définitive»), on the basis of which the original film materials were combined with the intended color projections. The music was reconstructed on the basis of the original production tapes, which are kept at the Institute of Sonology in the Netherlands. There are three mono tapes and a stereo tape. Information from the 30-second sequence from the original spatialization score, which has been included in Philips Technical Review in 1958, was used for a five-channel spatial interpretation of the complete work. Larger and more complex loudspeaker setups would allow for spatial interpretations taking into account the design of the loudspeaker routes of the original pavilion, of which drawings by Xenakis exist.
Selected Bibliography
Edgard Varèse und das "Poème électronique": eine Dokumentation, edited by Dieter A. Nanz, Basel: Paul Sacher Stiftung, 2006
Poéme èlectronique. Philips Pavillon World exhibition Brussels.
Dobson Richard, Fitch John, Tazelaar Kees, Valle Andrea, Lombardo Vincenzo, Varèse's Poème Électronique Regained: Evidence from the VEP project, Department of Computer Science, University of Bath.
Lombardo Vincenzo, Valle Andrea, Fitch John, Tazelaar Kees, A Virtual-Reality Reconstruction of Poème Électronique Based on Philological Research, in Computer music journal, 33 (2), 2009, p. 24-47.
Lombardo Vincenzo, Arghinenti Andrea, Nunnari Fabrizio, Valle Andrea, Vogel Heinrich H., Fitch John, Dobson Richard, Padget Julian, Tazelaar Kees, Weinzierl Stefan, Benser Sebastian, Kersten Stefan, Starosolski Roman, Borczyk Wojciech, Pytlik Wojciech, Niedbała Sławomir, The Virtual Electronic Poem (VEP) Project, in Proceedings of the 2005 International Computer Music Conference, San Francisco: International Computer Music Association, 2005, pp. 451-454.
Mattis, Olivia, Von Bebop zu "poo-wip": Jazzeinflüsse in Varèses Poème electronique, in Felix Meyer and Heidy Zimmermann (ed.), Edgar Varèse. Komponist, Klangforscher, Visionär. Mainz: Schott, 2006, pp. 309-317.
Paciaroni, Vittorio, Poème Electronique, Tesi di Laurea, 2006 (+ Appendix).
Petit, Jean, Le poéme électronique Le Corbusier, Paris : Edition de Minuit, 1958.
Shreffler, Anne, Varèse and the Technological Sublime, in Felix Meyer and Heidy Zimmermann (ed.), Edgar Varèse. Komponist, Klangforscher, Visionär. Mainz: Schott, 2006, pp. 290-297.
Tazelaar Kees, On the Threshold of Beauty: Origins of Electronic Music in the Netherlands 1925–1965, Rotterdam, V2_Publishing, 2013.
Download
Schematic Overview
Piece information
| | |
| --- | --- |
| Composer | Edgard Varèse |
| Title | Le poème électronique |
| Year | 1958 |
| Studio | Philips, Eindhoven |
| Type | Tape, three-track |
| Duration | 08:00 |
| Publisher | Ricordi |
Performance material
| | |
| --- | --- |
| Publisher | Ricordi, audio file on CD-ROM |
Archival material [1]
| | |
| --- | --- |
| Philips Company Archive | Images, photos, films |
| Institute of Sonology, Den Haag | Original tapes |
| Dutch Film Museum EYE, Amsterdam | Original film material |
| Fondation Le Corbusier, Paris | Drawings, models |
| Getty Research Institute, Los Angeles | Sketches, plans etc. |
Commercial releases (selection)
| | |
| --- | --- |
| Electroacoustic Music: Classics (1990) | Neuma Records 450-74 |
| An Anthology of Noise and Electronic Music Volume I (2001) | Sub Rosa SR 190 |
| Varèse. The Complete Works. (1998). (Sound projection recorded with microphones) | Decca CD 460 208-2 |
| His Master's Noise – The Institute of Sonology (stereo version of Tazelaar's eight-channel version) (2001) | BV Haast 06/0701 |
[1] S. Lombardo et al. (2009), p. 25.